Introduction
The Standardized Reclamation Cost Estimator (SRCE) was created in accordance with the guidelines developed during the implementation of the Nevada Standardized Unit Cost Project, a collaborative effort by the following organizations:
The Nevada Standardized Unit Cost Project was intended to address the need to provide a consistent basis for estimating reclamation costs for mining operations in Nevada with the goals of ensuring that mine reclamation cost estimates meet the applicable regulatory requirements and can be quickly reviewed by regulatory agencies.
With the addition of user-editable data files, the model can also be used to estimate reclamation costs using internal or standardized accounting cost data.
Overview
The SRCE utilizes standardized reclamation calculation methods, data and procedures to estimate the cost of reclaiming a mine site as if a third-party contractor for the State of Nevada is performing the reclamation.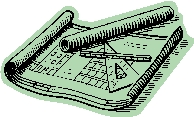 The SRCE incorporates the reclamation cost estimate requirements of the BLM and NDEP as specified in this document. Although the SRCE provides methods for estimating most of reclamation activities encountered at a typical mine site, some activities that require highly site-specific information and designs are not included in the model.
Items that are not included are primarily associated with process and mine water management and water treatment. Blank, user modifiable sheets are included for use by operators to included these elements or other mine closure activities in their cost estimate.
The model is located on this site. The official data files used for reclamation bonds in the State of Nevada will be maintained and made available on the NDEP web site. Other states or provinces may choose to input state-specific costs as well and maintain separate data files on other websites.
Regulatory Basis
Mine operators in Nevada are required by State law and, where mining is conducted on Federal land by Federal law, to provide estimates of the cost of reclaiming their mine sites and to provide a financial guarantee to the NDEP in the amount of the estimate. The estimates are based upon the assumption that a third-party government contractor will perform the reclamation work. The proceeds of a forfeited financial guarantee are used by NDEP to pay the contractor to do the work. The basis for development of the SRCE were the applicable State and Federal laws including:
Federal Land Policy and Management Act of 1976

Federal Code of Regulations, Title 43, Subtitle B, Chapter II, Subpart 3809, Financial Guarantee Requirements – General, Section 500 et. seq.

Nevada BLM Bonding Process for Notices and Plans of Operations Authorized by 43 CFR 3809.

Nevada Bureau of Land Management's Guidance for Hardrock Mining Reclamation/Closure Activities - Management of Heap Leach Effluent.

Nevada Bureau of Land Management's Reclamation/Closure Policy for Water Management for Hardrock Mining Activities.

Nevada Revised Statutes, Chapter 519A, Reclamation of Land Subject to Mining Operations or Exploration Projects, NRS 519A.160 (4) and NRS 519A.210 (5)

Nevada Administrative Code, Chapter 519A, Reclamation of Land Subject to Mining Operations or Exploration Projects, Provision of Surety, NAC 519A.350

Nevada Administrative Code, Chapter 534, Construction and plugging of wells.

Memorandum Of Understanding for Mining and Mineral Related activities within the State of Nevada.
Although the regulations used as the basis for the SRCE were those applicable to the United States of America and the State of Nevada, these regulations are fairly typical of North American jurisdictions and should provide a reasonable basis for reclamation cost estimated for most operations using North American standards.